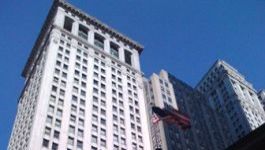 Novartis: shares lower despite 'solid' third quarter.
(CercleFinance.com) - Swiss group Novartis said on Tuesday that it is on track to deliver its full-year guidance, after reporting "solid" Q3 sales, with growth in all divisions.


This morning Novartis posted Q3 core EPS of 1.29 dollar, compared to 1.23 dollar in the same period a year ago.

Net income increased by 10% at constant currencies, while net sales were up 2% at 12.4 billion dollars.

"Alcon and Sandoz both delivered strong beats," Liberum analysts said.

Regarding its eyecare unit Alcon, for which the company has initiated a strategic review earlier this year, Novartis said it now excludes potential action before the first half of 2019 given the division's current momentum.

Also the firm re-confirmed its outlook for 2017, still expecting net sales to be broadly in line with 2016 at constant currencies, while core operating income is expected to be broadly in line, or post a low single digit decline.

Novartis shares are currently trading 1.26% lower this morning, underperforming the Swiss blue chip SMI index, which is down 0.2%.


Copyright (c) 2017 CercleFinance.com. All rights reserved.