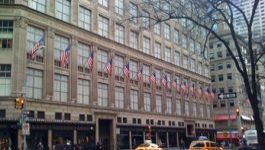 Bombardier: wins Chinese high-speed train deal
(CercleFinance.com) - Bombardier's Chinese joint venture has been awarded a contract to supply 160 train cars for China's high-speed rail network in a deal valued at 427 million dollars (about 380 million euros).


The cars - which will be supplied to China Railway - will be configured into ten 16-car trains with an operating speed of 350 km/h, the Canadian aircraft and train maker said.

All the cars will be delivered by mid-2020.

The seven joint ventures Bombardier has in China - which have more than 8,000 employees - have now delivered 4,500 railway passenger cars, 580 electric locomotives and over 2,500 metro cars and trams to China's growing rail transit markets, the group said.

Copyright (c) 2020 CercleFinance.com. All rights reserved.