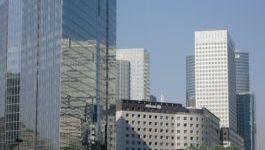 Bombardier: appoints top female banker on board.
(CercleFinance.com) - Bombardier has appointed National Bank of Canada's Diane Giard to its board of directors with immediate effect, the Canadian aircraft and train maker said on Tuesday.


Diane Giard has over 30 years of experience in the banking industry, including several years at Scotiabank, which she joined in 1982 and where she held various executive positions, the Montreal-based firm said.

She joined National Bank of Canada in 2011 and has since become executive vice president, in charge of personal and commercial banking and marketing, Bombardier added.


Copyright (c) 2017 CercleFinance.com. All rights reserved.