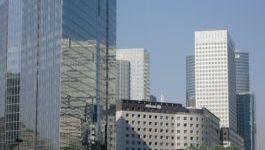 Ageas: posts best annual results in its history
(CercleFinance.com) - Belgian insurance group Ageas on Wednesday reported the best annual results in its history, helped by strong operating performance in Belgium, Continental Europe and Asia.


For the group as a whole, net insurance profit rose by 33% in the past year, reaching 960 million euros, above the 721 million euros posted for 2016.

In fourth-quarter alone, Ageas' insurance net profit grew to 274 million euros, against a loss of 86 million euros in the same period one year earlier, the insurer said.

Ageas - which said it is confident in its capacity to generate cash - plans to offer its shareholders a cash dividend of 2.10 euros per share, up 24% compared to the 2016 dividend of 1.70 euros.

The group also said it was preparing a new strategic plan for the period 2019-2021, which it will present after the summer.

The Brussels-listed Ageas stock is currently down 0.7% at 41.6 euros after the report.

Copyright (c) 2018 CercleFinance.com. All rights reserved.