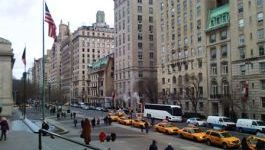 Ageas: share buybacks continue
(CercleFinance.com) - Belgian insurance group Ageas said it has bought back 200,000 of its own shares on the market last week for 8.
2 million euros, as part of the share buy-back programme announced last August.

Since the start of the share buy-back programme, the company has bought back 1.8 million shares for a total amount of 73.6 million shares, corresponding to 0.88% of the total shares outstanding.

Copyright (c) 2017 CercleFinance.com. All rights reserved.