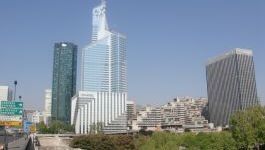 GBL: nine-month earnings positive again.
(CercleFinance.com) - Belgian holding company Groupe Bruxelles Lambert (GBL) said on Friday that it has returned to profit in the first nine months of 2017, thanks to a "buoyant environment" inthe financial markets.


Consolidated net profit for the January-September period reached 646 million euros, from a net loss of 802 million euros a year earlier, which was due to the impairment on the group's stake in LafargeHolcim.

This year, GBL's net result has been boosted by capital gains made on disposals, within Sienna Capital, on the group's stakes in Golden Goose and ElitTech, which total 216 million euros.

The group recorded impairments of just 1.6 million euros on its investments over the period, compared to 1.7 billion euros in the first nine months of 2016.

GBL said it has reinvested the proceeds from the disposals of Total and Engie, through new investments in Burberry, Ontex, Parques Reunidos and GEA.

After these results, the GBL stock was the sharpest riser on Brussels' BEL 20 index this morning, up 0.6% at almost 93.3 euros.

Copyright (c) 2017 CercleFinance.com. All rights reserved.