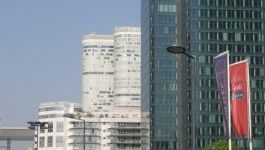 Ackermans: upbeat after trading update.
(CercleFinance.com) - Ackermans & van Haaren is up around 2.
7% in late afternoon trading in Brussels today, hence standing out in the Bel20 index, after the Belgian conglomerate, which in particular owns the dredging company DEME, Leasinvest Real Estate and Delen Private Bank, made a trading update.

For its main subsidiary DEME, the group boasts turnover that is up 27.6%, thanks to an intense level of activity in the construction of wind farms, and a backlog that has increased to 3,980 million euros.

The third quarter confirms the strong outlook for the group's FY 2017 result, said Jan Suykens, chairman of the group's executive committee, who also mentions a 21 million euro capital gain on the sale of the company SNTC.


Copyright (c) 2017 CercleFinance.com. All rights reserved.