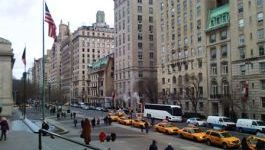 KBC Group: third-quarter net profit up 10%.
(CercleFinance.com) - Belgian banking and insurance group KBC announced on Thursday a 10% rise in third-quarter net profit, helped by economic expansion in Europe and stable interest rates.


The financial group's net profit rose to 691 million euros over the past quarter, compared with 629 million euros in the same period a year ago.

"Our costs remained under control, and loan loss impairment charges continued to be very low," CEO Johan Thijs said on Thursday.

Loan loss impairment charges were just 15 million euros over the quarter.

Customer loans rose 6% year-on-year, the group said, while deposits increased 12% with growth in all business units.

After these results, KBC shares are down 0.8% at 69.3 euros on Euronext Brussels.

Copyright (c) 2017 CercleFinance.com. All rights reserved.