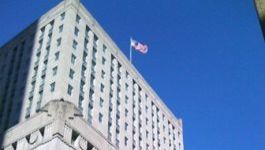 Solvay: agreement with SGL Carbon
(CercleFinance.com) - Solvay and SGL Carbon have reached an agreement to develop highly-competitive advanced carbon fiber composites for aerospace primary structures.


They will bring to market the first composite materials based on large-tow intermediate modulus (IM) carbon fiber.

"Composite materials for aerospace applications represent a multi-billion-dollar market that is expected to grow strongly in the coming decade," management said.

"These materials, which address the need to reduce costs and CO2 emissions, and improve the production process and fuel efficiency of next-generation commercial aircraft, will be based on SGL Carbon's large-tow IM carbon fiber and Solvay's primary structure resin systems," the group said.


Copyright (c) 2019 CercleFinance.com. All rights reserved.