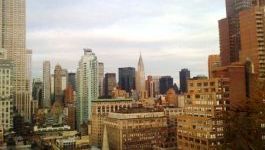 CM.com: plans IPO on Euronext Amsterdam
(CercleFinance.com) - CM.
com, a Dutch conversational commerce platform that connects businesses to consumers' mobile phones, said on Monday that it would seek a listing on Amsterdam's Euronext stock exchange in the coming weeks.

The company said it plans to raise approximately 100 million euros of newly issued shares, and potentially an additional small secondary component of existing shares held by current shareholders.

The funding will provide additional capital to accelerate growth, it said.

Founded in 1999, CM.com - which has 267 employees - reported revenue of 84.6 million euros last year, up from 79.9 million euros in 2017.

Copyright (c) 2019 CercleFinance.com. All rights reserved.